ponner
Admin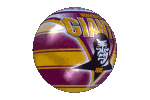 Number of posts

: 3680


Location

: Dewsbury


Registration date :

2008-02-22


Subject: Be a Giant inspiration Tue Feb 21, 2012 10:59 pm

---

Robbie Paul:

Throughout my international career NZ Rugby League would receive hundreds of facsimiles from NZ supporters with messages of encouragement and inspiration. I remember before the games we would read all of the messages sent and get a true understanding of what the matches meant to all of the NZ supporters and we used this as a source of inspiration and motivation. It truly meant a lot and was a great way of pulling us together.
Have you ever wanted to inspire your Huddersfield Giants team as they prepare for games at the Galpharm? Now YOU have the chance to help Nathan Brown lead our side to victory starting with the game at St Helens on Sunday March 4th.
The Huddersfield Giants are asking fans to design posters/messages to go up on the walls around the dressing room area to spur the boys on to victory. Any Claret and Gold fans can send in their designs and will be displayed on the dressing room area and read by the team.
The design is totally up to you. You may want to include motivational quotes, direct messages to players or team, or even how much it means to the supporters to pick up a victory at the Galpharm.
All designs can be posted to Robbie Hunter-Paul at the Galpharm Stadium, Stadium Way, Leeds Rd, Huddersfield, HD1 6PG alternatively you can easily design a poster or message on a Microsoft Word document or PDF and email it to enquiries@giantsrl.com and title the email 'Giant inspiration'.
Thanks for taking the time to help lead our lads to victory.

--------------------------------------------------------------------------------
Shogun
1st Teamer





Number of posts

: 472


Registration date :

2008-06-05


Subject: Re: Be a Giant inspiration Sat Feb 25, 2012 11:12 pm

---

ponner wrote:

Robbie Paul:
Throughout my international career NZ Rugby League would receive hundreds of facsimiles from NZ supporters with messages of encouragement and inspiration. I remember before the games we would read all of the messages sent and get a true understanding of what the matches meant to all of the NZ supporters and we used this as a source of inspiration and motivation. It truly meant a lot and was a great way of pulling us together.
Have you ever wanted to inspire your Huddersfield Giants team as they prepare for games at the Galpharm? Now YOU have the chance to help Nathan Brown lead our side to victory starting with the game at St Helens on Sunday March 4th.
The Huddersfield Giants are asking fans to design posters/messages to go up on the walls around the dressing room area to spur the boys on to victory. Any Claret and Gold fans can send in their designs and will be displayed on the dressing room area and read by the team.
The design is totally up to you. You may want to include motivational quotes, direct messages to players or team, or even how much it means to the supporters to pick up a victory at the Galpharm.
All designs can be posted to Robbie Hunter-Paul at the Galpharm Stadium, Stadium Way, Leeds Rd, Huddersfield, HD1 6PG alternatively you can easily design a poster or message on a Microsoft Word document or PDF and email it to enquiries@giantsrl.com and title the email 'Giant inspiration'.
Thanks for taking the time to help lead our lads to victory.

Thought this would be just up your street. Meant to mention it when I saw you today.